National Public Health Mentoring Program (NMP) Committee
"Mentors are guides. They lead us along the journey of our lives. We trust them because they have been there before. They embody our hopes, cast light on the way ahead, interpret arcane signs, warn us of lurking dangers and point out unexpected delights along the way." -- L.A. Daloz
The National Public Health Mentoring Program (NMP) pairs public health students with public health professionals across a variety of disciplines throughout the nation. The NMP then helps participants develop effective mentoring relationships. APHA-SA believes that connecting students with field practitioners will assure the retention of qualified and diverse students in public health, improving the relevancy of their public health training, and increase the readiness of new graduates to meet the challenges found in today's public health landscape. Indeed, this formal mentoring program can help strengthen the field of public health through the retention and growth of strong and committed leaders.
Mentoring is something that most of us have engaged in, as mentors and mentees, at various times in our lives, whether formally or informally. Many of us can name individuals for whom we have great respect and admiration, individuals after whom we hope to model ourselves and our development. These individuals can be considered our mentors. "Mentors are advisors, people with career experience willing to share their knowledge; supporters, people who give emotional and moral encouragement; tutors, people who give specific feedback on one's performance; masters, in the sense of employers to whom one is apprenticed; sponsors, sources of information about and aid in obtaining opportunities; models, of identity, of the kind of person one should be to be an academic (Zelditch, 1995)."
The NMP is a network of volunteer public health professionals and interested students. In order to make this program successful, we need dedicated, knowledgeable individuals who are willing to help the next generation of public health practitioners. To find out more or get involved, as a mentor, mentee, or committee member, check out the National Mentoring Program website. If you already a member of APHA-SA, you can register by logging in to the APHA web site's mentor/mentee matching system.
"If you want one year of prosperity, grow grain. If you want ten years of prosperity, grow trees. If you want one hundred years of prosperity, grow people." -- Ancient Chinese Proverb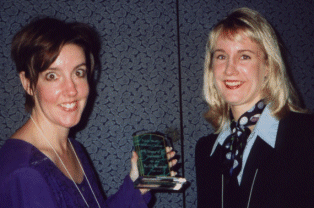 Melissa Stigler gives Kelli Komro, Ph.D, the 1999 Mentor of the Year Award at the 1999 APHA annual conference.
Past Mentor of the Year Award recipients
For more information about the NMP, please the mentoring committee co-chairs.
Website comments or suggestions? the webmaster.
Last Update 04/03/2006 15:17:14 -0400 (EDT)