The History of APHA-SA
The American Public Health Association Student Assembly (APHA-SA) was founded by a group of students dedicated to improving the experience of students in public health and other related disciplines, and increasing the involvement of student members of APHA. The PHSC was conceived at the 123rd Annual Meeting and Exposition of the American Public Health Association in October of 1995, where an organizational meeting was held for APHA members interested in forming a student group. This group began drafting a proposal to become an official caucus of APHA and formed an advisory board to guide this inception of the organization. In total, 43 APHA members signed a petition to create the Public Health Student Caucus in order to "provide an organization in which persons interested in issues concerning students of public health can organize and pursue our common goals and interests."
The Public Health Student Caucus (PHSC) was officially recognized by the American Public Health Association in January of 1996 following the proposal drafted at the 123rd Annual Meeting. In November of 1996, the Public Health Student Caucus (PHSC) held its first official meeting at the 124th Annual Meeting and Exposition of the American Public Health Association in New York. At this meeting PHSC adopted bylaws, completed a strategic plan, and elected its first slate of officers including President Jay M. Bernhardt, President-Elect Maria Louisa Cervania, Secretary Deborah Suess, and Treasurer Christine Haywood. In addition to these elected leaders, the PHSC consisted of six standing committees: Action, Programming, Finance, Membership, Nominations, and Outreach. Originally the PHSC maintained a separate dues structure from APHA, where membership cost students $10 per year in addition to APHA membership dues. The following year, PHSC held its first Planning Retreat in Washington, DC, and in November of 1997 the PHSC bylaws were amended to include three additional committees, Advancement, Mentoring, and Development.

Throughout the late 1990s the PHSC continued to grow at a tremendous rate. In February of 1999 technological advances including list serves were created for the PHSC Board members, for all members, and for students interested in receiving information about opportunities for employment, education, and other areas increased the connection between members by opening lines of communication. Additionally, the PHSC website (www.phsc.org, no longer available online) was launched in February 1999. Also in 1999, the PHSC logo was created, two poster sessions and one oral scientific session were sponsored at the 127th Annual Meeting and Exposition, and the National Mentoring Program recruited its first mentors and mentees. In February of 2000 the Campus Liaisons program was created with student representatives at 12 campuses, and the bylaws were amended to create four new committees and subcommittees, including Abstracts, Newsletter, Opportunities, and Website. In 2001, PHSC launched its quarterly newsletter, News & Views which still exists today, and received a Challenge Grant from APHA for the Campus Liaison Program and general membership recruitment.
At the 129th APHA Annual Meeting and Exposition in November 2001, APHA Governing Council voted to amend the APHA Constitution to add the president of PHSC to the APHA Executive Board and Governing Council as an ex-officio member. The following year in November of 2002, PHSC hosted the First National Leadership Conference for Students in Healthcare in Philadelphia, PA, and led efforts to create the Student Health Alliance. Also in November 2002 at the 130th APHA Annual Meeting and Exposition in Philadelphia, PA, PHSC amended its by-laws so that all student members of APHA automatically gained membership to PHSC at no additional charge.
The past three years have brought about much additional progress for PHSC (now APHA-SA). In March of 2003, PHSC leaders worked with The Nation's Health, APHA's newspaper mailed to all members, to create a quarterly student corner with information on student activities. Also in 2003 at the 131st APHA Annual Meeting and Exposition in San Francisco, CA, PHSC amended its by-laws to create the Diversity Committee and the Campus Liaison Subcommittee (of the Advancement Committee). In February of 2004 PHSC launched its first Diversity Campaign, and in April PHSC worked with APHA to produce the first student guide for National Public Health Week, an effort that has become an annual tradition ever since.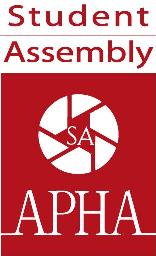 Finally, in May 2004 the PHSC leadership presented a proposal to the APHA Executive Board to create an entity within APHA separate from Sections and Special Interest Groups, specifically for student members of APHA. At the 132nd APHA Annual Meeting and Exposition in Washington, DC in November of 2004, the APHA Governing Council voted to amend the APHA Constitution and Bylaws to restructure the PHSC to create the APHA Student Assembly, hence our current name and logo. This proposal created student leadership positions in APHA: APHA Action Board, Education Board, Science Board, and Committee on Affiliates, Intersectional Council, AJPH Editorial Board, and The Nation's Health Advisory Committee. Following this restructuring, in the spring of 2005, the student leaders of APHA-SA held the first APHA-SA strategic planning meeting at APHA National Office in Washington, DC, adopted a revised version of the PHSC bylaws and leadership handbook, launched its new website, and created its new logo.
All of APHA-SA programs continue to grow today, with Campus Liaisons at 25 different college campuses across the U.S., student liaisons to nearly all of the APHA sections and some Special Interest Groups, an energetic board of student leaders, and an active membership. Additionally, APHA-SA represents one of the fastest growing factions of members within APHA, with over 5,000 student members, representing an increase in nearly 25% in less than two years. APHA-SA Annual Meeting programming continues to grow, boasting several oral and poster scientific sessions, two business meetings, and invited sessions featuring distinguished speakers designed to help students launch their careers in public health. In 2004 APHA-SA convened the first annual National Conference for Students in Public Health at the 134th Annual Meeting and Exposition in Philadelphia, PA, and currently plans are well underway for the second conference for students at the 135th Annual Meeting in Boston, MA.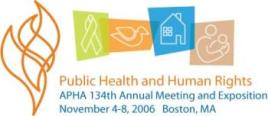 APHA-SA has benefited from a rich history of dedicated student leaders who have driven the organization to where it stands today. APHA-SA has established a strong, symbiotic relationship with APHA, and continues to experience success based on the support of APHA, its members, and dedicated APHA-SA board members. We're looking forward to continued success driven by committed student leaders in the future!
Website comments or suggestions? the webmaster.
Last Update 07/27/2006 15:10:11 -0400 (EDT)